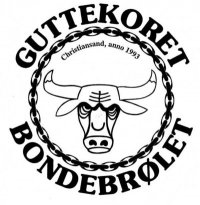 Blandakoret Bondebrølet er et manskor for de som liker å ta seg en trall i godt selskap.Vi kom til verden en kald vintersnatt i november 1993 og har siden den gang tilbudt studenter i Kristiansand et unikt tilbud.  Hos oss synger vi med den stemmen vi har og sangene det går i er preget av stemning og latter. Vi finner også på mange andre aktiviteter som årlige hytteturer, danmarksturer opptil flere ganger i året og mye mer. Vi har øvelse hver torsdag kl 18.00 og etter øvelsen drar vi på den populære quizen til Østsia. Hvis det er stemning for det fortsetter vi som regel kvelden ved å dra ned på Javel og drar den litt ekstra ut med karaoke. Er du en student som trenger litt fart og spenning i den ellers kjedelige studenttilværelsen er Guttekoret Bondebrølet noe for deg! Vi holder til på Stiften (bygg 20) og hvis du vil vite mer er det bare å komme innom på torsdager, kontakte oss via vår facebookside eller sende en melding til
Storbonden nås på 94807237.
Blandakoret BondeBrølet is a choir for men who greatly enjoys singing a tune or two in eachothers company. A cold wintersnight in 1993 we were born and have since then provided the studentens in Kristiansand with a unique offer. We dont really care about how well we sing, aslong as we have fun doing it and we have a wide viarity of fun and entertaining songs.  In additon to our choir activities we also go on trips both to locations in Norway and in Danmark every year. Vi have practise every Thursday at 18.00 and after we are done we usually go to Østsia to participate in the quiz they host there. If we are up for it we go to Javel where they have karaoke every Thursday. If you want alittle more fun and excitement in your day is Guttekoret Bondebrølet something for you! We are housed at Stiften (building 20) and if you want to know more you can stop by us any Thursday, contact us through our facebookpage or send a textmessage to 94807237.