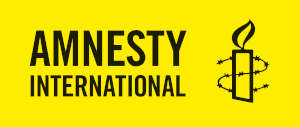 Amnesty-studentene Kristiansand er en studentgruppe som tilhører Amnesty International. Amnesty International er en ledende organisasjon innen menneskerettighetsspørsmål. Organisasjonens og vårt mål er å skape bevissthet rundt brudd på menneskerettigheter verden over.
Hva gjør vi?
En viktig del av arbeidet til Amnesty-studentene Kristiansand er kampanje- og aksjonsarbeid. Hvert år fokuserer vi på nye tema knyttet til brudd på menneskerettighetene. Det overordnede målet er å bevisstgjøre. opplyse og sette saker på dagsorden. Vår studentgruppe har blant annet underskriftskampanjer, arrangerer filkvelder, debatter og foredrag. Vi har selvfølgelig også sosiale sammenkomster innad i gruppa!
Noen av medlemmene i Amnestystudentene Kristiansand sammen med generalsekretær i Amnesty Norge, John Peder Egenæs. 
Hos oss vil du få nyttig erfaring med organisasjonsarbeid. Du får også muligheten til å være med i et sosialt studentnettverk som holder til ved Universitetet i Agder. Er DU interessert i å engasjere deg for å få slutt på brudd med menneskerettighetene?
Kom innom standen vår under studiestartfestivalen eller i løpet av året!
For mer informasjon:
Send mail til amnesty.uia@gmail.com
Eller sjekk ut Facebooksiden vår:  https://www.facebook.com/AmnestystudenteneKristiansand/
Amnesty Students Kristiansand is a student group belonging to Amnesty International. Amnesty International is one of the leading organisations defending human rights. Amnesty's goal is to create awareness of the grave abuses of human rights occurring around the world.
What do we do?
An important part of the work of Amnesty Students Kristiansand is campaign work. Every year we focus on a number of new and relevant topics connected to human rights offences. The superior goal is to raise awareness, enlighten and put cases on the agenda. Among other things, we have petitions and arrange movie nights, debates and lectures. And of course we have social gatherings! Joining our group will give you useful organisational skills. As well, you get the opportunity to be bart of a social student network at the University of Agder. Are YOU interested in engaging in the process of ending human rights abuses?
Stop by our stand during the festival at the start of the semester, or throughout the year!
For more information:
Email us at amnesty.uia@gmail.com
Or check out our Facebook page:  https://www.facebook.com/AmnestystudenteneKristiansand/